Registration for the event is now closed
Introducing Culture & Conduct virtual Deep Dive
This virtual Deep Dive, focusing on culture and conduct within financial institutions, will take place in short three hour blocks in a safe, off-the-record environment.
Global regulators have made it clear that culture and governance remains a key regulatory priority. In the UK, the FCA has publicly declared its focus to be on four key drivers: purpose, leadership, the firm's approach to people, and governance, including systems, controls, and oversight for the business. The increased regulatory expectation has now, more than ever, placed greater importance on organisations and boards to address behaviours that pose a risk and understand how culture is the root of misconduct.
Regulators from across the globe now demand financial institutions enact positive cultures that demand purposefulness, the appropriate tone from the top, good governance frameworks and incentive structures that promote the desired behaviours. With the growing focus on existing and emerging risks, there is now a greater need for firms to understand the role culture and conduct plays in their organisation and the role it plays in managing non-financial risk.
Hear what Sacha Sadan, Director of Environment Social and Governance, FCA said during XLoD Global - London in 2022
What can you expect?
Taking place over two days, each with three hours of debates and interactive roundtable discussions for financial institutions, you will have the opportunity to:
Benchmark your culture and conduct capabilities against your peers
Network with heads of functions responsible for implementing and enhancing culture and conduct
Gain critical insights to ensure businesses are compliant with the latest regulations and exchange views with the regulators
Interact with fellow delegates using an inter-delegate messaging system available before, during and after the event
Take advantage of rewatching, or catching up on missed content, on-demand, during, and for seven days after the event is finished
Keynote speech at Culture & Conduct 2023
'Key Learnings and the Year Ahead from the New York Fed' was the keynote that opened the Culture & Conduct Deep Dive 2023. It was delivered by James Hennessy, Head of the Governance and Culture Reform Initiative, Federal Reserve Bank of New York. Watch it now.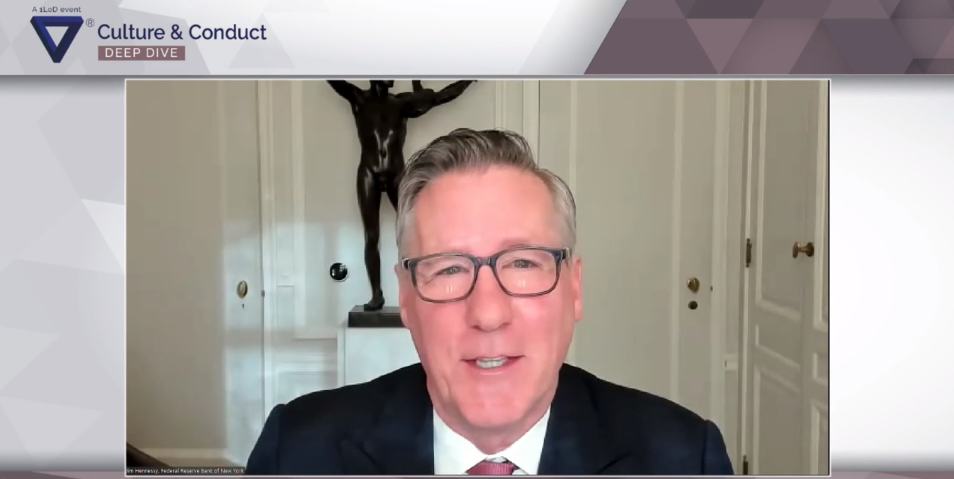 Who should attend?
Practitioners from Banks and Asset Managers working within:
1st Line Control Functions including:

Supervision
Risk assessment
Control testing
Surveillance

2nd Line Practitioners including:

Regulatory compliance
Financial crime

3rd Line Internal Audit functions

Head of Conduct
Head of Conduct Risk
Head of Behavioural Science
Head of Culture
Head of Culture Audits
Head of Ethics
Head of People
Head of Well-being
Head of HR
Head of Strategy
Head of Operations
Corporate Responsibility Officers
Networking
A series of interactive pre-booked roundtable discussions between financial institutions, moderated by 1LoD
An intra delegate messaging system
Roundtables
Private, off the record roundtables are moderated by 1LoD, and attended by delegates from financial institutions who have booked their place in advance. They take place on Zoom. Delegates are sent discussion topics, and an overall structure of the debate in advance to assist the flow of the discussion.
What have others said about attending our virtual events?
"Another great event put on by 1LoD. A diverse group of speakers and backgrounds, coupled with various formats (keynotes, debates, roundtables) for maximum information and engagement. It's always easy to meet new industry contacts and take away new pieces of information."

"As usual 1LoD did not disappoint, the Culture & Conduct Deep Dive was insightful and topical. The mix of participants from the industry, regulators and thought leaders made for extremely interesting debates and valuable connections."

"The Culture & Conduct Deep Dive virtual event was excellent: professionally run and containing thought-provoking content."

"The quality of the discussions at 1LoD is always of the highest quality; which reflects the preparation and professionalism of 1LoD, and its ability to attract knowledgeable experts."
Do you have a product or service that could benefit the audience?
Join the leading firms that are benefiting from the sponsorship and marketing opportunities available.