At XLoD Global in November 2022
Bill Winters, Chief Executive Officer, Standard Chartered Bank, said:
"We know that managing these non financial risks requires a very distinct, special set of skill sets and practices. And we tried very hard to hardwire these into our operations."
Do you need to find out how senior non financial risk practitioners think about ESG risks, the maturity of their related risk management processes, and how to make the data challenge more manageable?
1LoD's ESG Risk Deep Dive brings together leading non-financial risk professionals with regulators to discuss the impact of environmental, social and governance risks on financial institutions, and how those risks can be mitigated.
Financial institutions must focus on conduct, appropriateness, disclosure and taxonomies. In order to do so, they need better data, new standards and improved regulatory coordination.
During four in-depth panel sessions, hosted over two days, senior speakers will examine ways of measuring exposure to ESG risk, and the challenges that entails. Speakers will discuss how culture frameworks can be combined to incorporate ESG values and how the challenges created by a lack of historical data can be overcome. And there will be a session dedicated to how regulatory expectations are aligning with client demand for ESG products.
Hear Citigroup's Natalie McManus-Barnett on mitigating ESG Risks.
More than half (57%) of ESG leaders at the 2022 deep dive said that data is the most significant challenge facing the management of ESG risks in their own organisations. Firms need data for performance measurement, risk management and regulatory reporting. But most of this data comes from clients and other third parties, so it is inconsistent and difficult to obtain and verify. Even ESG indices and ratings use different methodologies, raising concerns of misselling and other forms of misconduct.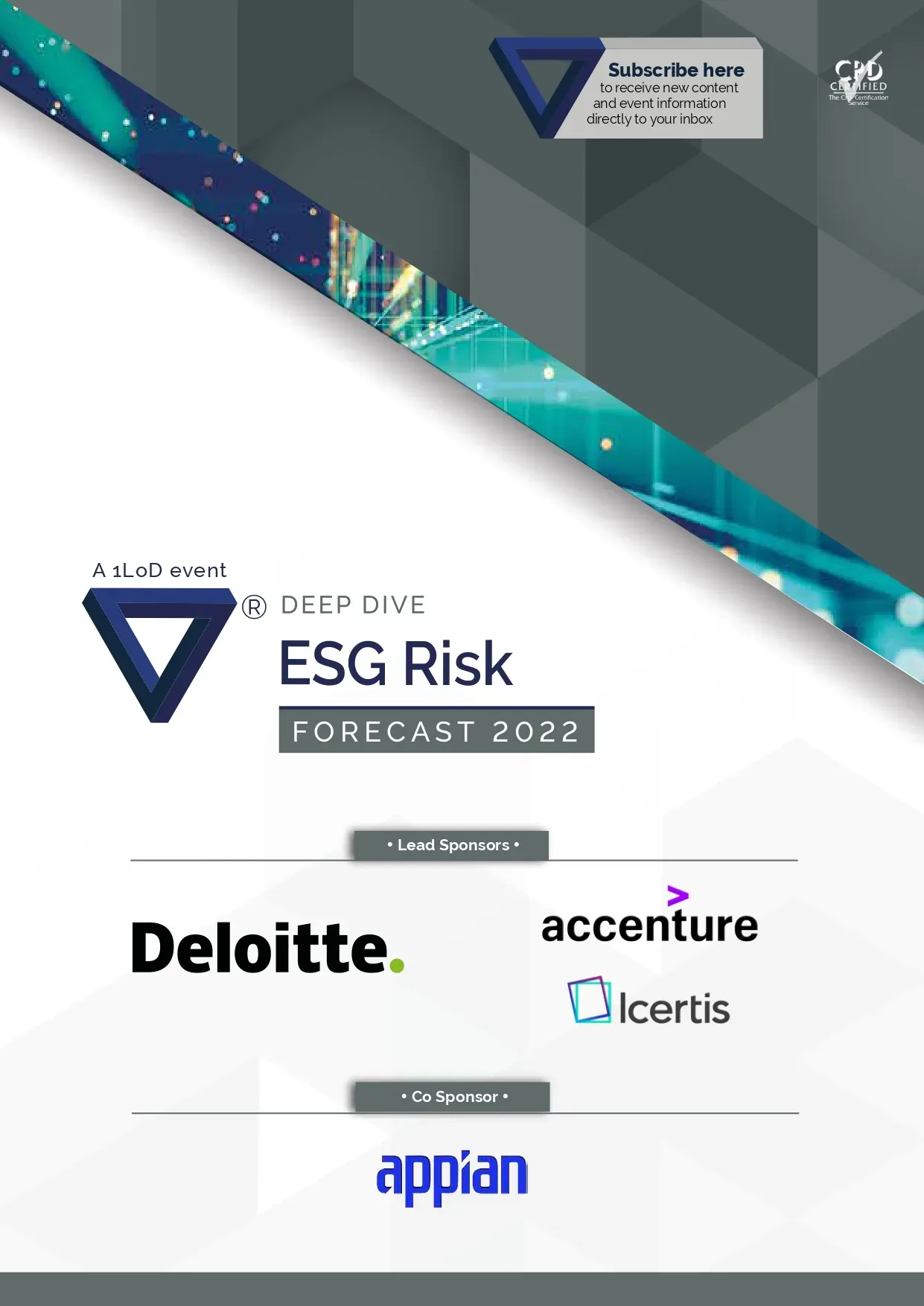 Who is the ESG Risk Deep Dive for?
Practitioners from Banks and Asset Managers working within:

1st Line Control Functions

Risk Assessment
Climate change risk
Control Testing
Stress Testing

2nd Line Practitioners including

Chief Compliance Officer/ Head of Compliance
Risk reporting and data governance
Head of ESG Risk Reporting and Engagement
ESG Compliance Governance and Regulations
Third Party Risk and KYC Risk
Head of Legal
ESG Compliance, Regulatory Affairs

3rd Line Internal Audit Functions

Audit and Assurance
Head of Audit
Head of Internal Audit
Audit Director

Climate and ESG Specialists

Global Head of Transformation and Strategy
ESG Policy Lead
Head of ESG
Wholesale Governance and ESG
Global Head of Corporate Social Responsibility
Global Lead, Conduct Risk & ESG
Chief Risk Officer
Chief Climate Officer
Director, Climate Change, Resilience and Sustainability
What will you hear at the ESG Risk Deep Dive?
How to measure key ESG criteria to create a resilient risk and control framework
Aligning corporate culture embrace and enhance ESG strategy and aims
Incorporating ESG factors into risk and control metrics
Overcoming a lack of standardisation for ESG data points
Sourcing robust data to overcome the lack of historical data
Upgrading legacy systems and processes to effectively incorporate ESG
Improving ESG disclosures to align with global best practice and reporting requirements
Hear what Sacha Sadan, Director of Environment Social and Governance, FCA said during XLoD Global - London in 2022
How will this ESG Risk Deep Dive benefit you?
Networking
A series of interactive pre-booked roundtable discussions between financial institutions, moderated by 1LoD
An inter-delegate messaging system
Roundtables
Private, off the record roundtables are moderated by 1LoD, and attended by delegates from financial institutions who have booked their place in advance. They take place on Zoom. Delegates are sent discussion topics, and an overall structure of the debate in advance to assist the flow of the discussion.
Do you have a product or service that could benefit the audience?
Join the leading firms that are benefiting from the sponsorship and marketing opportunities available.