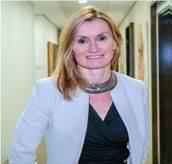 Patricia Sullivan
Global Head Financial Crime & Compliance, Business Control and Oversight for CB/IB
,
Deutsche Bank
Patricia Sullivan is a Managing Director and Head of Financial Crime Business Control & Oversight for the Corporate and Investment Banks at Deutsche Bank since June 2021. Ms. Sullivan reports directly to the CEO to embed effective and sustainable financial crime controls and a strong risk management culture across Anti-Money Laundering, Anti-Bribery & Corruption, Fraud, and Sanctions. Ms. Sullivan has more than 20 years of experience in Financial Services, Criminal Prosecution, Litigation, Financial Crime Compliance and Core Compliance. Based in New York, she is a member of the Deutsche Bank USA Board sub-committee on Anti-Financial Crime.
Prior to joining Deutsche Bank, Ms. Sullivan was the Global Co-Head of Financial Crime Compliance for Standard Chartered Bank. Ms. Sullivan joined Standard Chartered in November 2014 as the Americas Head of Financial Crime Compliance and US MLRO, to take on the remediation and transformation of the Financial Crime Compliance program across People, Process, and Technology at a time of significant enforcement and regulatory action, including on site Monitors. In January 2019, following the successful termination of the NYS Department of Financial Services and US Department of Justice monitorships, Ms. Sullivan was promoted to the Global Head position and relocated to London where she was based until 2020. The position oversaw a team of 2,500+ financial crime fighters, and included representing Standard Chartered Bank in the Wolfsberg Group, the UK Finance Financial Crime Committee and the European Banking Federation Financial Crime Strategy Steering Committee.
Prior to joining Standard Chartered Bank, Ms. Sullivan was based in Hong Kong for 5 years with UBS AG serving as the Deputy Global Head for Financial Crime Compliance and APAC Head of Financial Crime and Core Compliance. Prior to this, Ms. Sullivan held several other positions at UBS AG including Regional Head, Americas AML Compliance, and served as an Assistant District Attorney in the Manhattan District Attorney's Office covering in her years at DANY General Crimes, Fraud, and proudly serving as a member of the Sex Crimes Prosecution Unit.
In 2020 Ms. Sullivan was appointed to the Executive Board of Lawyers Without Board (LWOB). LWOB is an NGO operating globally to build capacity and integrity in the world's justice sector. LWOB engages with lawyers and judges dedicated to pro bono service to integrate them directly and indirectly into initiatives that serve the underserved, protect the disadvantaged, and promote human rights.
Ms. Sullivan also serves on the Royal United Services Institute for Defence and Security Studies' Taskforce on a Trans-Atlantic Response to Illicit Finance and is the Vice-Chair of the Global Coalition to Fight Financial Crime, Americas Chapter.
Ms. Sullivan holds a Bachelor of Arts from Columbia University and a Juris Doctorate from Fordham University School of Law.