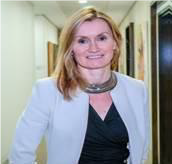 Patricia Sullivan
Managing Director, Global Co-Head, Financial Crime Compliance
,
Standard Chartered Bank
Patricia Sullivan is a Managing Director and Global Co-Head of Financial Crime Compliance for Standard Chartered Bank since January 2019. Ms. Sullivan joined Standard Chartered in 2014 and was the Europe & Americas Head of Financial Crime Compliance prior to her appointment to the Global Head position. Ms. Sullivan has more than 20 years of experience in Financial Services, Criminal Prosecution, Litigation and Financial Crime Compliance. Based in New York, she is a member of the Conduct Financial Crime & Compliance Management Group, a member of the Board and Group Financial Crime Risk Committees for Standard Chartered Bank, and the Chair of the Diversity & Inclusion Committee for the Compliance, Financial Crime & Conduct teams.
Ms. Sullivan oversees the implementation of an effective and sustainable Anti-Money Laundering, Anti-Bribery & Corruption, Fraud, and Sanctions Compliance Program for all Standard Chartered entities. This includes overseeing a team of over 3500 financial crime fighters dedicated to transaction surveillance, sanctions compliance, risk assessment, governance, change & analytics, cyber financial intelligence, Investigations & Controls, external advocacy to promote effective outcomes in combatting financial crime, and leading for the second line the Correspondent Banking Academy "De-risking Through Education" program. Ms. Sullivan also represents Standard Chartered Bank in the Wolfsberg Group, and meetings with FATF and the Financial Stability Board. Ms. Sullivan currently serves as Standard Chartered's representative at the UK Finance Financial Crime Committee and represents UK Finance at the European Banking Federation Financial Crime Strategy Steering Committee and is a leader in efforts to combat Modern Slavery and the United for Wildlife Financial Sector Task Force. Through this work Ms Sullivan is dedicated to Standard Chartered's mission: Partnering to Lead the way in Fighting Financial Crime.
Prior to joining Standard Chartered Bank in November 2014, she was based in Hong Kong serving as the Deputy Global Head for Financial Crime Compliance at UBS AG. Prior to this, Ms. Sullivan held several other positions at UBS AG including Regional Head, APAC, AML Compliance, and served as an Assistant District Attorney in the Manhattan District Attorney's Office.