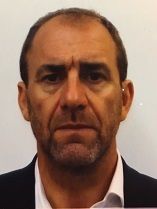 Nick Lewis OBE
Global Head, Integrated Intelligence & Investigations
,
Standard Chartered Bank
Nick worked in UK law enforcement for over 30 years and led a number of significant operations with partner agencies around the world into organised crime threats against the UK. He has significant experience in leading complex multi-national investigations, and working with public and private bodies to develop effective strategies to reduce and tackle the harm caused by organised crime activity, in particular building effective partnerships to tackle organised crime.
In 2008, Nick was posted to the British Embassy, Washington DC. As well as leading the UK's strategic engagement on organised crime with the US government, Nick led the UK contribution to the development of partnerships and task forces across the US and the Caribbean.
In March 2013, Nick was awarded the National Intelligence Medallion by the US Government, and in 2014 was awarded an OBE for "services to international law and order" by Her Majesty the Queen.
Nick joined Standard Chartered in 2016 as the Global Head of Integrated Intelligence and Investigations. He is also an adviser to the RUSI "Future of Financial Information Sharing" Programme, and a board member of the Global Initiative Against Transnational Organised Crime