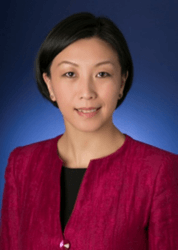 Lin Lu
Chief Controls Officer, Executive General Manager
,
National Australia Bank
Lin Lu is the Group Chief Controls Officer at National Australia Bank. Lin is a skilled business leader with extensive international experience and broad industry knowledge in banking, consulting, regulatory, information security, technology and risk. She has architected and executed large-scale strategy and transformation across a diverse portfolio, with a strong track record in setting a clear vision and achieving sustainable performance with targeted service, customer, cost, and risk benefits. Lin has been a trusted advisor to C-suite executives and Boards of Directors and has worked in the US, UK, Switzerland, Germany, China and Korea, before landing in her current role in Australia.
In her current role, Lin is responsible for 1st line risk and controls across all businesses and accountable for setting bank wide 1st line risk management transformation strategy and its execution. Prior to joining National Australia Bank, Lin was Senior Vice President and Enterprise Operational Risk Officer at Freddie Mac. Lin was also a Managing Director of Deutsche Bank where she served as Chief Information Security Officer for Americas and Global Head of Third Party Risk. While at Deutsche Bank, Lin also held several executive leadership positions from managing data center infrastructure to running the regulatory portfolio in Group Technology and Operations. Her other experience includes investment and business development at British Petroleum, China Construction Bank and Deloitte Consulting.
Lin has served as a member of the Advisory Board for the Santa Fe Group Shared Assessments Program, the Advisory Board of the American Bankers Association's Certified Enterprise Risk Management, and Security Innovation Network Steering Committee. Lin sat on the faculty for the 2017/2018 ABA Enterprise Risk Program at the Robert H Smith School of Business and the 2018/2019 Stonier Graduate School of Banking Risk program at Wharton.
Lin received her MBA in Finance and Strategy from the London Business School. Her professional credentials also include CISSP (Certified Information Systems Security Profession), CERP (Certified Enterprise Risk Profession), AMP (Accredited Mortgage Profession), and CTPRP (Certified Third-Party Risk Profession).