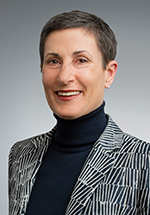 Bari Havlik
Former Executive Vice President, Member Supervision
,
Financial Industry Regulatory Authority (FINRA)
Bari Havlik is the Former Executive Vice President for Member Supervision. In this capacity, Ms. Havlik led FINRA's Member Regulation program, which includes surveillance and examination programs for member firms.
Previously, Ms. Havlik was a Senior Vice President and Chief Compliance Officer for The Charles Schwab Corporation. She began her career in financial services in 1982, and has worked for discount brokerage, full service retail and institutional securities firms, as well as bank-affiliated broker-dealers.
Ms. Havlik received her undergraduate degree from DePaul University. She served on the board of Creativity Explored, a non-profit that gives artists with developmental disabilities the means to create and share their work with the community, celebrating the power of art to change lives. Before relocating to New York, she also served on the board of GirlVentures, a non-profit that inspires girls to lead through outdoor adventure, inner discovery and collective action.