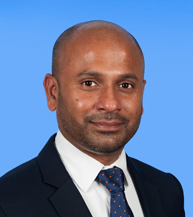 Anton Rajanayagam
Director, Head of Electronic Trading Risks and Controls
,
Citigroup
Anton Rajanayagam is Head of Electronic Trading Risk and Controls at Citi. As first line of defence, Anton is responsible for the design and implementation of robust control framework around electronic trading. Anton is also responsible for the independent real time monitoring for disorderly markets at Citi, and is a member of Citi's eTrading Risk Management Committee.
Anton's current focus includes defining model validation approach for algorithms and building trade surveillance capabilities within front office first line of defence.
Anton graduated from Imperial College London, and has over 18 years of experience in Financial Services, where he now specialises in Electronic Trading. Anton started his career at PwC, and worked at Merrill Lynch and Goldman Sachs prior to joining Citi.