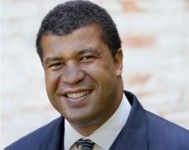 Adam Oyebanji
Managing Director, EMEA Head of Sanctions
,
BNY Mellon
Since April 2020, Adam has been responsible for economic sanctions compliance in EMEA. He sits in the EMEA Financial Crime Team, reporting to the EMEA MLRO, with a dotted line to the Global Sanctions Compliance Officer.
Adam has over 30 years' experience in Legal and Compliance. His journey into banking is atypical in that he has spent most of his career as a trial lawyer and has, by his estimate, more than 1,000 trials under his belt. From 1987 until 1999 he practised as a barrister in what was then the Midland and Oxford Circuit, specialising in commercial and chancery matters. He then moved to the US and requalified as an attorney. In the US, he had a national practice with an increasing focus on white collar crime and financial services. He joined BNY Mellon's Legal Department in 2015 and, after a brief return to private practice in 2019, joined EMEA Compliance in 2020.
Adam holds an LLB from the University of Birmingham, an LLM from the University of Bristol, and a JD from Harvard Law School. He is a member of the English Bar and admitted to practice in Illinois, New York, and Pennsylvania. He is a certified anti-money laundering specialist.